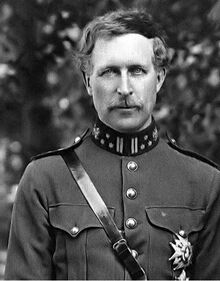 Alberto I (Bruxelas, 8 de abril de 1875 — Bruxelas, 5 de agosto de 1919) foi o terceiro rei dos belgas.
Sobrinho de Leopoldo II, (segundo rei dos belgas) foi o menos agressivo em questões de políticas coloniais dos reis belgas, tendo melhorado a questão a vida de alguns nativos e instaurado uma série de leis que proibiam várias caça contra elefantes africanos, violência exagerada e etc.
Se casou com Isabela da Baviera e foi pai do príncipe Leopoldo.
Morreu na revolução belga pelo General August e seus soldados.
Após a morte de Leopoldo II, o Estado Livre do Congo foi abolido e se tornou uma colônia oficial do reino da Bélgica, continuando com parte das medidas políticas que foram outorgadas por Leopoldo II, porém até sua morte, Alberto I ficou em contra das sanguinárias medidas.
Seu governo começou oficialmente em 1911, investindo amplamente em medicina, saúde, educação, mineração e indústrias, tornando da Bélgica o país com maior income do mundo. Foi um rei bastante prestigioso, porém devido à suas relações com a França, acabou influenciando até mesmo a política interna da Bélgica, fazendo com que várias pessoas se enfurecessem com o governo.
Morreu em 1919 fuzilado por soldados traidores.
Ad blocker interference detected!
Wikia is a free-to-use site that makes money from advertising. We have a modified experience for viewers using ad blockers

Wikia is not accessible if you've made further modifications. Remove the custom ad blocker rule(s) and the page will load as expected.