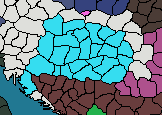 O Império da Transleitânia é um dos países do leste europeu, sendo o que mais possui população húngara e um dos mais bem-armados.
Faz fronteira com a Cisleitânia, Romênia e Grécia. Por mar com a Itália.
Surgiu após a revolta de 1914, separando-se da Austria-Hungría, junto com a Sérvia e a Polônia Cracoviana.
Etimología
Edit
O nome do país vem de Trans (leste) Leitânia (Terra do rio Leitha), já que na época da monarquia dual, as terras da coroa austriaca estavam à oeste do rio Leitha, enquanto as da coroa húngara estavam à leste.
Muitas pessoas se colocaram contra à o nome do país, já que faz referência à o nome que a coroa possuia apenas no Império Austro-Húngaro.
Possui um forte poderio militar que herdou do antigo Império, com uma grande quantidade de aviões e uma quantidade considerável de força naval (que foi dividida entre a Cisleitânia e a mesma) além de uma frota de tanques.
Atualmente está em guerra com a Grécia.
Ad blocker interference detected!
Wikia is a free-to-use site that makes money from advertising. We have a modified experience for viewers using ad blockers

Wikia is not accessible if you've made further modifications. Remove the custom ad blocker rule(s) and the page will load as expected.